Ambassador of Thailand to Denmark paid a courtesy call and met with Mrs. Lina Gandløse Hansen, State Secretary for Trade and Global Sustainability of Denmark
Ambassador of Thailand to Denmark paid a courtesy call and met with Mrs. Lina Gandløse Hansen, State Secretary for Trade and Global Sustainability of Denmark
วันที่นำเข้าข้อมูล 19 May 2023
วันที่ปรับปรุงข้อมูล 19 May 2023
On 9 May 2023, H.E. Mrs. Sirilak Niyom, Ambassador of Thailand to Denmark paid a courtesy call on Mrs. Lina Gandløse Hansen, State Secretary for Trade and Global Sustainability at the Danish Ministry of Foreign Affairs to seek support for Thailand's candidature to host the Specialized Expo 2028 in Phuket. Mr. Torsten Andersen, Deputy Director General of the Danish Business Authority under the Ministry of Industry, Business and Financial Affairs, also attended the meeting.
Her Excellency the Ambassador presented the potential of Phuket which not only its fame for beautiful landscapes, but also its reputation as a world-class center and destination for health and medical tourism that has made Phuket become the perfect venue for the first global Expo in Southeast Asia during 20 March 20 – 17 June 2028. Additionally, the Expo area of over 22.5 hectare in the north of Phuket Island will be surrounded by forests, and various pavilions will be designed with innovation and high energy-saving technologies. The man-made buildings will only account for 20% of the area and the original ecosystem will be preserved as much as possible. There are also learning routes in many fields such as bio-ecology, energy, food production, water management and herbal plants, etc., for the public and participants to visit and study. Moreover, there will be various pavilions for presentation in medical and health technologies, innovative solutions for sustainability and environmental friendliness, art performances, exhibitions and business meetings between companies from countries around the world. The event will be a great opportunity for Denmark, a world leader in green technology and innovation, to showcase relevant products and expand business cooperation with various partners in the Expo - Phuket which is the gateway to ASEAN market with over 620 million consumers.
On this occasion, Her Excellency the Ambassador also presented souvenirs from the Thai campaign to the Danish side including a pavilion model with the "leatherback turtle" shape representing innovative design based on local nature. The leatherback turtle is the world's largest sea turtle found on Phuket Island and is a symbol of healthy and longevity. It represented Phuket in term of Holistic Health Care and reflects the achievements in sustainable conservation of the ecology of Phuket beaches.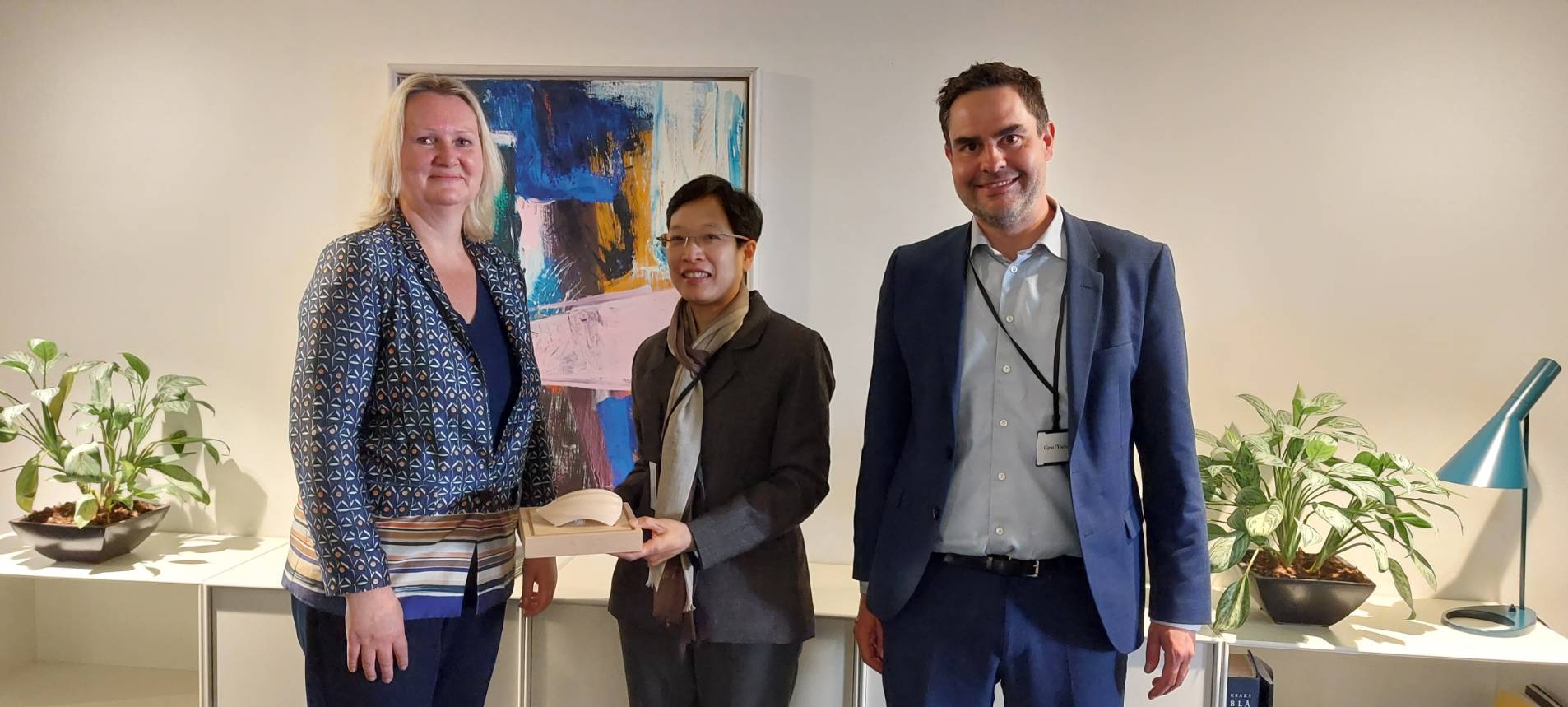 ---