Thailand ranks 9th in 10 best retirement countries and the only Asian destination on the list complied by Forbes Magazine.
Thailand ranks 9th in 10 best retirement countries and the only Asian destination on the list complied by Forbes Magazine.
วันที่นำเข้าข้อมูล 5 Jan 2023
วันที่ปรับปรุงข้อมูล 5 Jan 2023
Thailand ranks 9th in 10 best retirement countries and the only Asian destination on the list complied by Forbes Magazine.
Experts at International Living who release an 2023 Annual Global Retirement Index explained why Thailand made the Top 10 :-
There is no doubt that the allure of Thailand begins with its sun drenched, warm climate and appeals to those who have a keen sense of adventure and an eye for natural and cultural beauty. Thailand is the heart of Southeast Asia and is hugged by Cambodia, Laos, and Myanmar (Burma) in the north and shares a border with Malaysia in the south.
Thailand is the only country in Southeast Asia that wasn't colonized by any European countries and therefore maintains a culture untouched by any other influences. Culturally, the Thais place great emphasis on 'sanuk' or 'fun' which impacts on all aspects of the lifestyle in Thailand. Thais are community minded and love to meet each other and eat out which drives an enormous restaurant and cafe culture across the entire country. Thailand is alive with social events. Festivals and local temple rituals delight as lanterns, fireworks, lightshows and candle water floats (kratongs) enhance the celebratory atmosphere. This is a fun place to live and provides many opportunities to feel alive.
Thailand has been a popular destination for retirees for decades and provides long term visas for people over 50. Although Americans are the largest expat cohort in Thailand, it is also a popular destination for the British, Canadian, French and Swiss. Thailand's expat appeal is that it offers an affordable cost of living yet manifests an enriched way of life. Its diverse natural beauty means that expats are spread from islands surrounded by emerald waters, the high-rise metropolis of Bangkok or the rice fields and laidback lifestyle of Northern Thailand.
After living in Chiang Mai, a large city in the north of Thailand, my life could not be better. Over the last seven years I have not been bored, not even for a minute. These days I enjoy a more active and healthier lifestyle. Happily, I have found a plethora of local events, including music, art, food festivals and locally run courses. The opportunities for internal travel feel limitless even though I have played under waterfalls, climbed mountains, meditated with monks and snorkeled on coral reefs.
Probably the best deals to be had in Thailand are in real estate. Foreigners are able to buy condos very easily and there are bargains everywhere. It is possible to buy a two-bedroom condo for under $30,000 and rentals can be as cheap as $180 per month if you need something small and quaint. Most expats believe that $2,500 per month equates to a good life in Thailand, however I know many that live off less than that, especially if they own the condo that they live in. Although Thailand is a safe country with a lower crime rate than most, it is very easy to live in a condo or gated community that has security.
Food in Thailand is perfect for any palate. For the adventurous, there are rich and textured curries that dance on your tongue which can cost less than $5, fiery noodle dishes with dumplings and pork or crispy duck. Of course, if you need to eat food from home, you will be able to find everything you desire. Not only are there American fast food chains in Thailand, like KFC and McDonalds. The Thais have a cooking culture and there are many locals that have learned how to make food from all over the world. Pizzas, Turkish kebabs, sushi to biscuits and gravy are just a few highlights to this world fare.
An enormous advantage to living in Thailand is by far the healthcare facilities. Being a popular place for dental and health tourism says it all. Expats report being very happy with the healthcare and there are a range of hospitals to choose from. Most of the doctors speak English but if not, there is often a translator on call. The best hospitals in Thailand are completely first-rate. Part-time expat Bonny Mayer's dentist in Rochester was extremely impressed by her dental work from Thailand. "He told me he thought my bridge work was the best he has ever seen and suggested I get my crown on my next trip," she says. Alternative healthcare is also available with traditional Chinese herbalists, acupuncture, and massage and these are also very popular with expats looking for supportive treatments.
An obstacle for people thinking about moving is about finding their own community when they move. Thailand has a history of busy expat communities and it is easy to find the tribe with your vibe. Facebook groups are popular ways to connect with people and groups range from motorcycle groups to book clubs to salsa dancing. Whatever you are into, you will find it here.
The climate in Thailand is warm and it doesn't have seasons like back home. It actually feels like one long summer holiday. There are three seasons, hot, wet, and cool, although the cool season really only hits the northern part of the country as it is in a slightly different climatic zone. The average temperature in Thailand is 79.3 F in the north and 81.5 F in the southern and coastal areas. The wet season usually occurs from July to October and makes the country's foliage come alive in a lush green and is considered the prettiest season. Many expats have found that their arthritis has alleviated since moving to a warmer climate.
The infrastructures of the country are also outstanding. The utilities are very cheap, an average monthly water bill is less than $5. The roads are generally well maintained and there are good quality transport systems from the railway to long haul buses and reasonably priced taxis.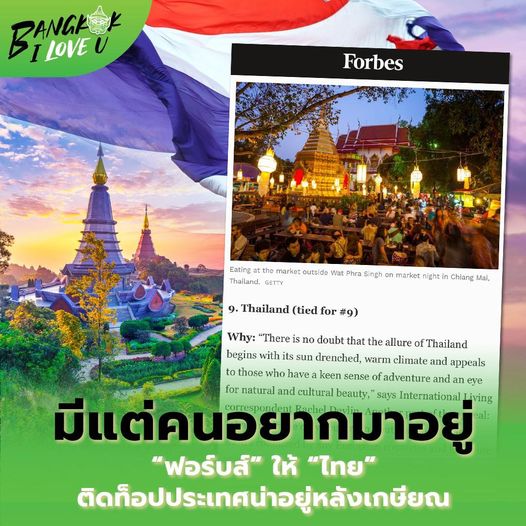 ---