The historical journey, presented thus far in this 20-part series, has demonstrated a unique bond of friendship encompassing the length, the breadth and the depth of relations between the two Kingdoms. From the first recorded contact 400 years ago, when Danish traders arrived and were granted the permission to trade by the King of Ayutthaya, to the establishment of diplomatic relations after the signing of the Treaty of Friendship, Commerce and Navigation in 1858, to the many exchanges of visits between the two Royal Families following the first visit by King Rama V in 1897 that laid a strong foundation, based on mutual trust, for the warm and special bilateral relations in the succeeding era.
Unlike other western countries, which sought to expand their colonies and religious influence, many Danes gained trust from the Siamese kings and played instrumental roles in the modernization of the country, ranging from the Navy and the Provincial Gendarmerie to infrastructure and public utility development. In more modern times, Danish companies have utilized Thailand's competitive advantage as their production and export base for decades as well as technical cooperation in the agricultural sector with the Thai-Danish dairy farm being a symbol of the lasting cooperation between the two countries. The people-to-people relations between Thailand and Denmark have always been vibrant and dynamic, as evident by more than 150,000 Danes visiting Thailand each year as well as a large and engaging Thai community who found their second home in Denmark through marriage, work and education.
The historical friendship between the two kingdoms has stood the test of time and both countries are now looking forward to the future of mutual prosperity, guided by common values of sustainability, innovation and creativity. Looking ahead, Thailand will seek to broaden and deepen the happily existing bilateral relations with Denmark in all dimensions.
On the political front, more high-level visits and regular political consultations will be encouraged. Dialogues will also be expanded to include working groups between various ministries responsible for specific issues of mutual interests such as trade and investment, climate change and environment, which will pave the way for strategic green partnership. With regard to economic relations, the emphasis will be placed on cooperation in eco-friendly agriculture, green energy, design and architecture, innovative production, digital economy, partnership between SMEs and start-ups as well as an exchange of business delegation between the two countries. In addition, the Thai-Danish people-to-people connectivity will be enhanced through green and sustainable tourism, student exchange and training programs as well as cultural events organized and participated by Team Thailand, the Thai community and Friends of Thailand in Denmark.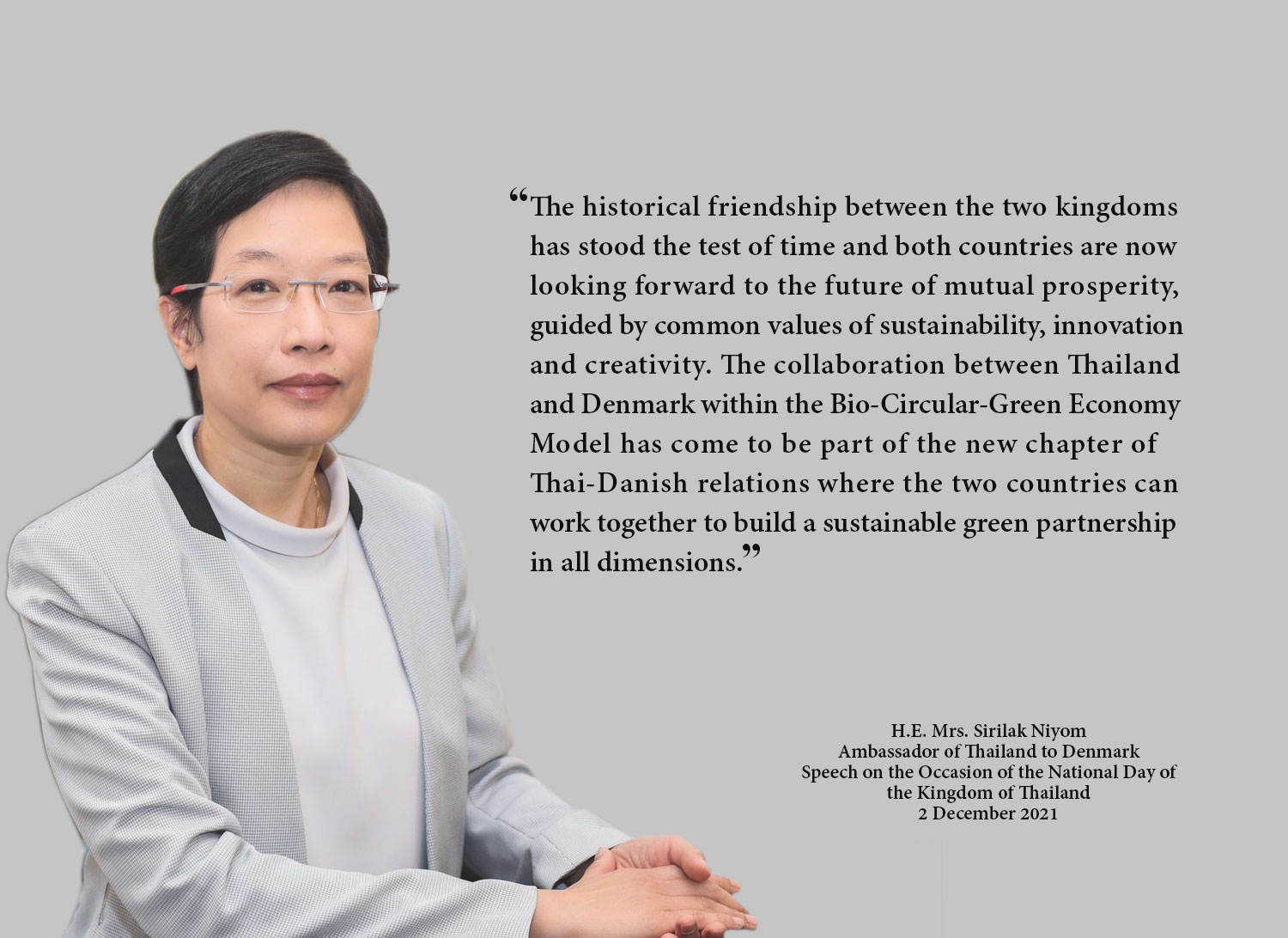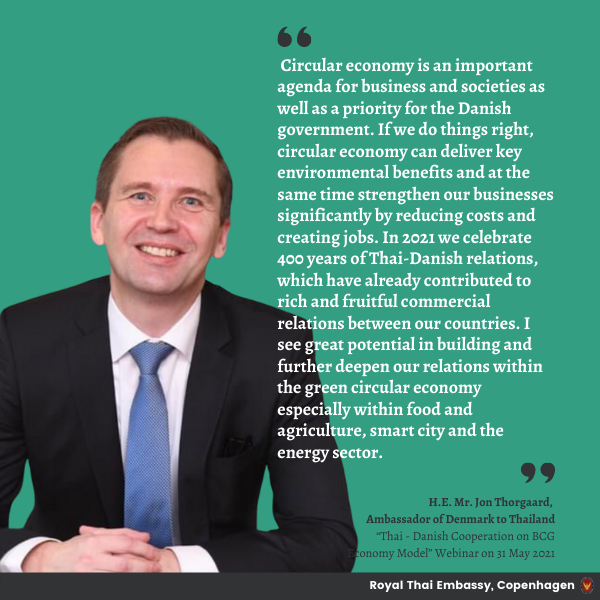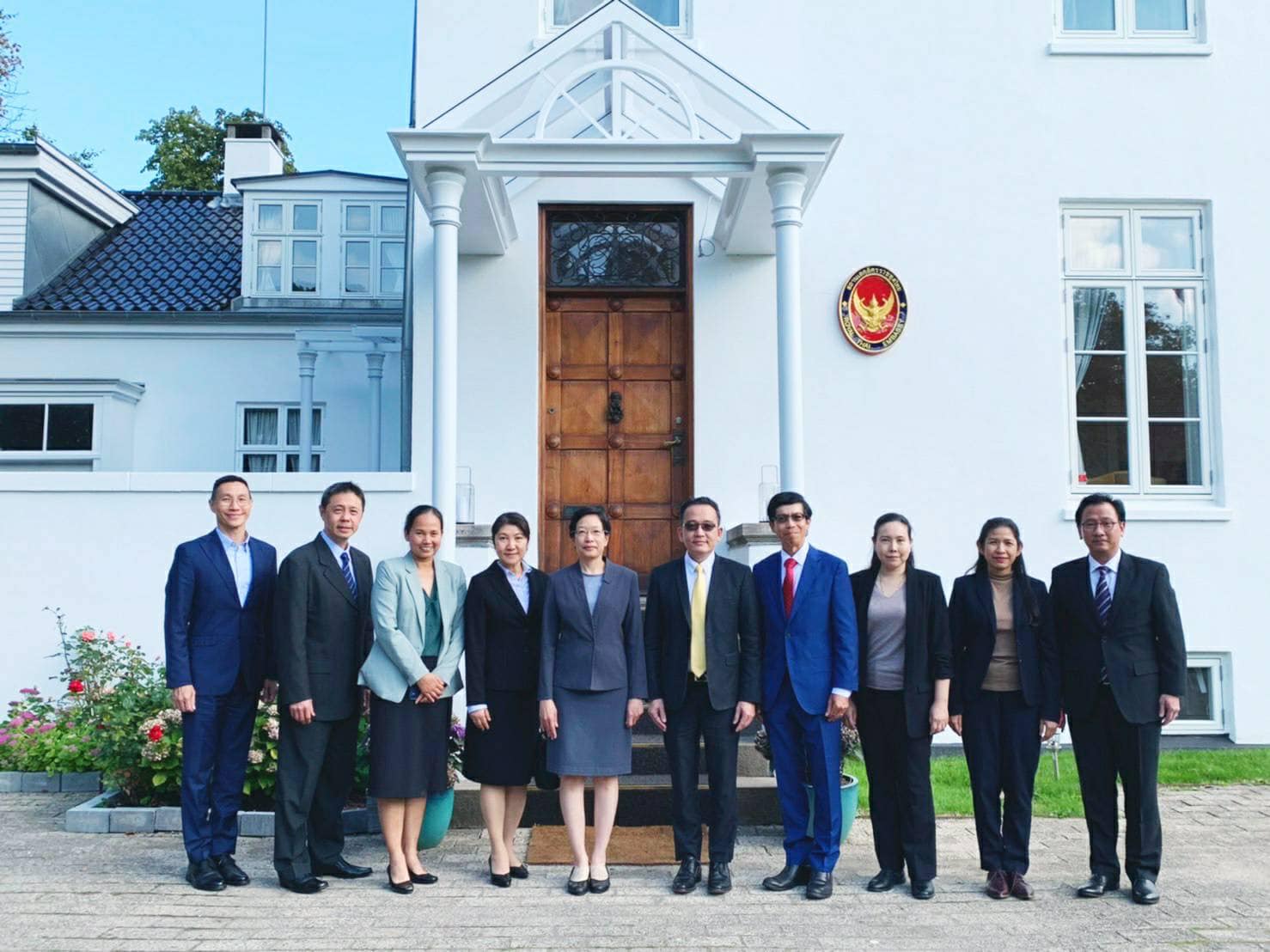 H.E. Ms. Sirilak Niyom, Ambassador of Thailand to Denmark, chaired the Team Thailand Meeting in Copenhagen in September 2021. The meeting, which attended by the Heads of 7 Team Thailand offices, namely Office of Commercial Affairs in Copenhagen; Office of Customs Affairs in Brussels, Office of Agricultural Affairs in Brussels, Office of Higher Education, Science, Research and Innovation in Brussels; Office of Air Attaché in Stockholm, Office of Board of Investment of Thailand in Stockholm, and Office of Tourism Authority of Thailand in Stockholm, aimed to discuss a comprehensive work plan to enhance bilateral cooperation between Thailand and Denmark in all fields.